Desculpe, esta página não está disponível em seu idioma. Você ainda pode traduzir esta página com Google Tradutor. Terá possíveis erros de tradução.
Reservation system

With the reservation system, your customers can make a reservation for products or services.
The reservation system uses the Symcalia calendar application that is in beta stage at the moment. The connection is usable, but we advise to wait until the system is 100% ready.

Please use parameters instead.

If you want to use Symcalia in the future, please vote for the Symcalia update.
Appointments for wellness centers, therapists, garages, etc
Reservations for hotel rooms, bed and breakfast, holidays, etc
Reservations for tennis courts, sauna, banquet, etc
Rental bikes, scooters, campers, etc
Reservations for DJ's or audiovisual material
Reservations for workshops, meetings or tours
Features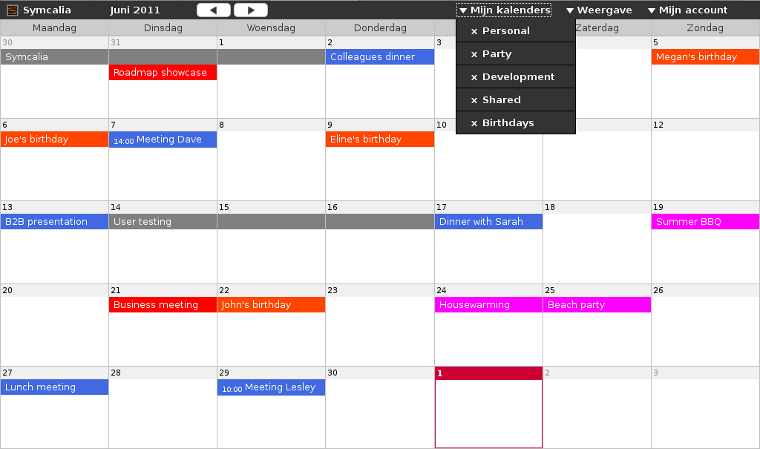 User friendly calendar display of available objects for your vistors
Multiple calendars
Set daily, weekly, monthly or quarterly recurring events
Exceptions to recurrent events, e.g. in case you are on holiday
Automatically or manually confirm requested reservations
E-mail confirmation to your customer after your accept the reservation
Offline reservations
View a demo of the reservation system
Installation of your online shop
If you have been referred by Symcalia and you do not have a shop yet, then read how you can easily create an online shop.
Activation of the reservation system
Log in into your account and navigate to Settings > Modules > Reservations (see message above)
Click Activate
Link your existing Symcalia account or create a new account automatically
If Reservations is not displayed in the menu, first adjust the user level to Expert, at Settings > User experience level.
The reservation system is now ready for use. Use EasyWebshop to manage your shop. Use Symcalia.com to manage your reservations. You can set a different password for both accounts, so that an employee can manage your reservations, but can not change your website.
Linking products
A product that can be reserved, is always linked with a calendar in your Symcalia account. You can create one calendar for multiple products, but you can also create multiple calendars for all of your reservation of products or services.
Add a new product (read product management for more information)
Change the product mode to Advanced
Click the bar Reservations

My calendars

Here you can link your product with a Symcalia calendar. Optionally, create a new calendar for this.

Total objects

This field allows you to let your customers make reservations for multiple items or objects.
If you rent a sauna room, or if you are a therapist, or if you give wellness treatments, then set the number of objects to 1.
If you rent bicycles, hotel rooms, or if you have several employees, then state here the amount of the total available objects.
Display

The way your calendar is displayed for your customers. For rental of properties a monthly view is applicable. For sessions of several hours, it is best to opt for a week or day view.

Automatic confirmation

Appointments can be confirmed in your Symcalia account. You can also choose which appointments are automatically confirmed after your customer has placed the order.
Choose the option No connection in the calendar drop down menu to remove the link between the product and the calendar.
Adding events
Your product is now successfully linked to a calendar, but it is not yet possible for your customers to make a reservation. You must first add the events that your customer can reserve.
If you have a fixed daily, weekly or monthly schedule, it is not necessary to re-enter the reservation timing every time. When entering an event, you can repeat the reservation timings daily, weekly or monthly under the tab Details.
With the Availability tab, you can make exceptions, for example disable events if you are on holiday.
Managing your reservations
Click here for all information about managing your reservations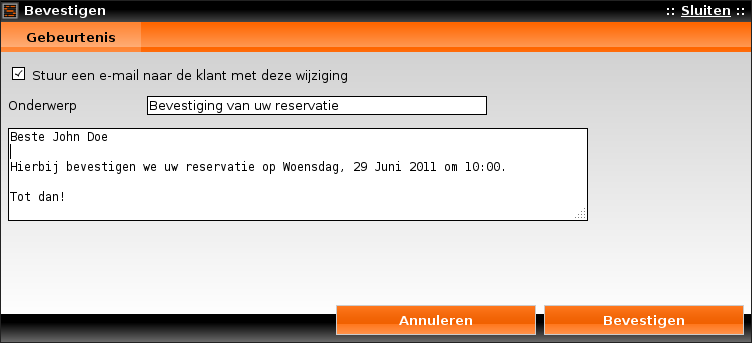 Test your shop and the product linked to the reservation system yourself. This way, you can make improvement if necessary.